CX930/CX940 Series
Enhance your fleet with large-format color and versatitility
Color MFP, up to 65 ppm. Optional finishing. Supports up to A3 or SRA3/12x18 media.
Compare Models
---
Color and performance for your fleet
Lots of standard features and lots of options make it easy to get work done.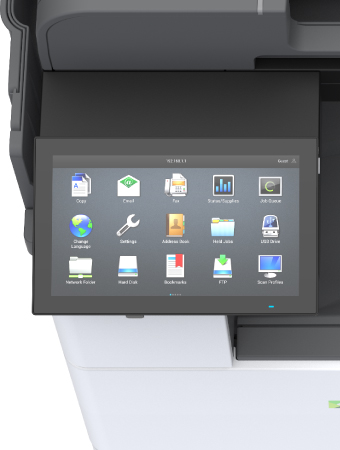 Productivity is in the box
The CX930/CX940 Series come standard with many features to keep your business at maximum productivity. Workflow solutions are built-in and easy to use on the large button-free touch screen.
Flexible input and output
These devices scan and print up to A3 or SRA3/12x18 media, and optional trays expand input capacity up to 5,140 pages. Many finishing options are available to staple, punch holes, and fold booklets.
Professional color for large-format media
Enjoy vibrant color with standard advanced features like PANTONE® calibrations and Lexmark Named Color Replacement for consistent branding and professional appearance.
---
Security, sustainability and opportunity
Tap into the Internet of Things to unlock new capabilities, while you continue to focus on security and sustainability.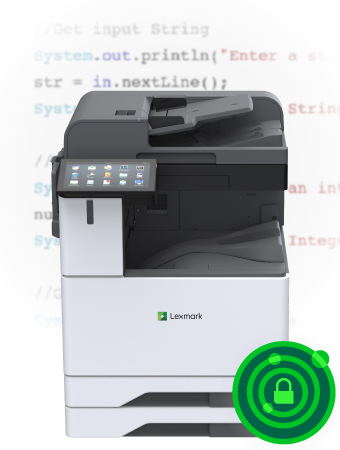 Secure by design
Lexmark security features help keep your information safe—in the document, on the device, over the network and at all points in between.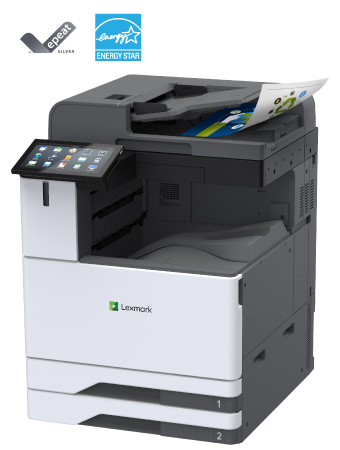 Focus on sustainability
Automatic two-sided printing is standard, along with built-in energy-saving modes that help support ratings of EPEAT® Silver and ENERGY STAR® certified.
Put the IoT to work for you
When you connect your device to Lexmark Cloud Services, you can optimize performance and uptime with additional features like predictive service and automatic supplies replenishment.
---
What model is best for you?
Choose from the features to find available models that target your needs.
| Model | Print Speed | Touch Screen | Standard Input Capacity |
| --- | --- | --- | --- |
¹Print speeds measured in accordance with ISO/IEC 24734 (ESAT). For more information see: www.lexmark.com/ISOspeeds.