Managed Print Services (MPS)
Ongoing managed print services assessment is critical in an evolving world
Your organization's MPS could be misaligned to your needs if you have not had a recent assessment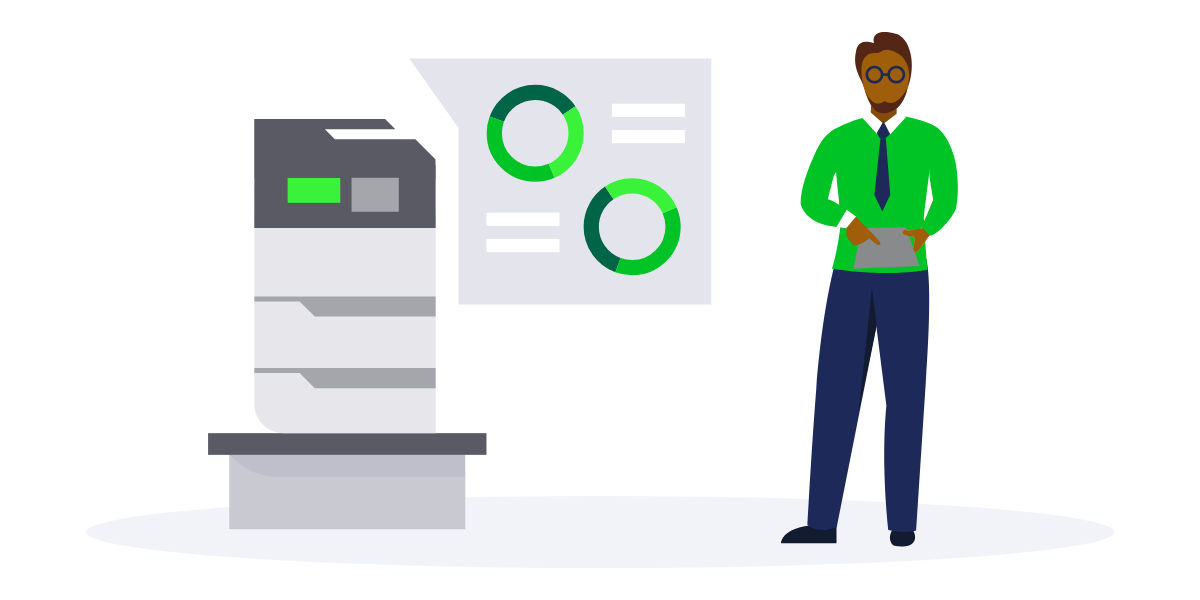 TAGS: Managed Print Services (MPS)
If anything, the COVID-19 pandemic has confirmed that situations change, often rapidly. Organizations worldwide have had to adjust to evolving requirements, changing demands and a transforming workforce.
Where we were before the pandemic is not where we are now, or where we will be. New circumstances might require different solutions. To adapt, we must regularly reassess ourselves and our organizations.
The same goes for your managed print services (MPS). Is everything the same as it was a year ago? Unlikely. Staffing levels have probably changed. You might have opened, shifted or closed locations. Perhaps you're using new processes or technologies.
Bottom line: Your previously completed MPS assessment is probably no longer valid. Your MPS setup most likely is not calibrated to your organization's current reality. Ongoing assessment is vital to maintain an optimized printing and scanning ecosystem.
Workforces and workplaces change
Let's use work setting as an example of how things might have changed. Are more of your employees working remotely?
Even before COVID-19, trends showed remote work on the rise. Regular work from home in the United States has grown 173% since 2005, according to GlobalWorkplaceAnalytics.com. The analyst firm also reported that 56% of U.S. workers hold a job that is compatible with working remotely at least part of the time and 80% say they would like to work remotely at least part-time.
After COVID-19? There likely will be a significant upswing in the adoption of remote work, the analyst firm forecasts.
How has your hiring adapted? Are you adding more remote employees or more office- or headquarters-based workers? Are you recruiting for different roles than you were before? Have you shifted your hiring to focus on different locations or geographies? Are your remote workers choosing to occasionally come into an office (a practice called "hoteling")? The answers to these questions and more have an impact on daily operations, including how your printing and scanning ecosystem is being used.
Even if you've already had an MPS assessment and assume your fleet is optimized, you might be surprised by what you would learn with ongoing assessment.
For example, the number and types of printers and multifunction products (MFPs) you have could be very different from what you need. Do you have too many large, expensive and unnecessary A3 devices, which are over-configured for most printing needs, when smaller, more efficient A4 devices would work—and save money? Would end-user experience improve with a reliable print-release solution that allows workers to print from any company device? Is your entire MPS ecosystem—meaning the printer fleet and the infrastructure—set up in the best way possible? Is on-premises print infrastructure, including servers, the best solution for your current needs when cloud-based infrastructure could simplify management and drive flexibility?
A new assessment could help determine your answers.
Don't skip ongoing assessments
You might not spend much time thinking about assessment, especially after an initial implementation—but it should be a vital part of every MPS engagement. A sound MPS strategy includes ongoing comprehensive assessments of your evolving print operations.
Optimizing your printing and scanning ecosystem—including the appropriate placement of MFPs, cloud versus on-premises infrastructure, and more—is a significant step to reducing paper usage and improving business processes.
We understand that it might be tempting to skip the assessment and move on to implementation. You shouldn't.
In our experience, organizations underestimate the size of their print fleet by as much as one-third. This number varies some by industry and certainly if the environment is already managed by an MPS provider. However, we rarely encounter an organization that has a complete and accurate picture of its fleet.
Assessments also often reveal over- or underused assets and usage patterns that have changed without you noticing.
This lack of visibility can lead to unnecessary expense and effort. A professional assessment creates alignment between the customer and the provider, motivates decision making, and establishes priorities.
It also ensures the fastest path to implementation. If you make plans based on what you think you know about your fleet only to learn your information is inaccurate, you risk a slow, difficult implementation. If you use data from an old assessment, your implementation does not meet your current needs. And that costs you time and money.
10 questions to ask about assessment
To get the most out of MPS, ensure your provider has solid assessment experience by asking these questions:
Who will be conducting the assessment? Are they experts in your industry?
How many assessments has the vendor completed, overall and in your industry?
Are the assessment deliverables specific to your organization? Do they reflect industry insights and trends?
How thorough is the assessment? Does it cover your entire ecosystem? Does it assess cloud versus on-premises print infrastructure (servers, queue management, etc.)?
How does their assessment process uncover the unique requirements of each part of your organization?
How does the vendor support modern workplace environments and remote employees?
What types of data collection tools and databases are used?
Will the vendor use data and analytics to drive continuous improvement throughout the life of your engagement?
How are consultants assigned to your organization? Are they providing truly expert insight?
Can the vendor quickly scale to take on a project at your organization, regardless of size or complexity?
Are you ready for an MPS assessment?