Universal Print
Microsoft's cloud-based print solution
---

---
Simplify print management with Universal Print
Cloud-based setup, configuration, management and troubleshooting
Lexmark printers are Universal Print ready
Easy to discover, instal and print
Built-in encryption to secure data
Allows role-based access control
Ability to manage many printers in many locations
---
Simplify the printing environment to reduce IT cost
Universal Print moves key Windows Server print functionality to the Microsoft 365 cloud, running entirely on Microsoft Azure, so organisations no longer need on-premises print servers and do not need to instal printer drivers on devices.
Printers are easy to deploy and manage
IT organisations can deploy printers and register them with the Universal Print service without the need for a complex hybrid print setup. From Windows devices that are Azure Active Directory joined, printers can be detected with location-based discovery. Default printer preferences can be preconfigured, and user groups can be defined for additional security. A rich administrator experience provides additional functionality, controls, and reporting.
No learning curve for users
Users can continue to print from their Windows devices or Microsoft Office as they always have. There is nothing new to learn.
Lexmark support for Universal Print
Lexmark worked with Microsoft to ensure the compliance of our printers. A firmware update, validated by Microsoft, enables native registration and print support without the need for a PC application to facilitate printing. Get more information about the firmware update here. For help in registering your device or printing, see our how-to videos.
Even without updating firmware, you can simply use a Universal Print Connector application to connect printers to Universal Print.  This enables all devices to participate in Microsoft Universal Print for an easier transition.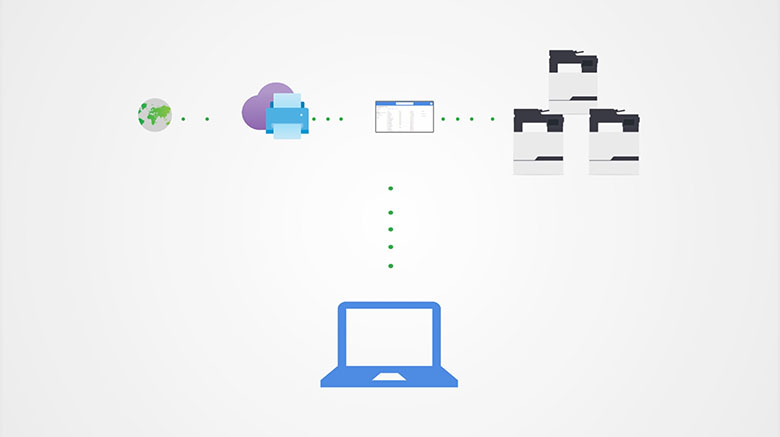 VIDEO
[MP4 00:35:00]
Learn how Universal Print can be used to securely manage printers without a print driver.

Related Lexmark solutions