Thought Leadership
Five things to consider so your next print services contract is a success
| By By Stephen Bell, Regional Director, Lexmark ANZ
Design a cost effective, future-proof print service contract to support your current and future needs – not your historical ones. See how with our top five tips.
TAGS: Thought Leadership
"You do realise we customers all talk to each other - we have to because we assume that you print people are just out to rip us off."
These words, spoken by one of our own customers at a Lexmark conference a couple of years ago, reverberated through the entire Lexmark Australia sales team. We were gathered to discuss how we can better support our customers and this comment highlighted an uncomfortable perception of the print industry that so many of us – customers and staff alike – have skirted around for years.
And yet these words have made me, for one, more determined than ever to ensure our customers are educated and informed throughout the entire business relationship – and particularly when it comes to negotiating a managed print services (MPS) contract.
2020 has taught us that, more than ever, our customers need flexibility and agility. This is particularly important when establishing new contracts. A print industry that locks our customers into inflexible, rigid contracts that do not reflect the rapid pace at which business is changing is not in their interests.
So, what should businesses, procurement and IT managers focus on when negotiating their next MPS contract? Here are Lexmark's top five tips:
1. Plan for tomorrow, not for yesterday
The COVID pandemic has accelerated digital transformation initiatives in many businesses globally and is having a profound impact on the future print needs of many organisations worldwide. Sectors such as Financial Services, Government and Service have experienced larger declines in print volumes, with A3-sized printing in particular feeling the pinch. Globally, A3 sized printing constitutes less than one per cent of all pages produced by Lexmark devices under MPS, and in many environments the usage is less than half it was a year ago.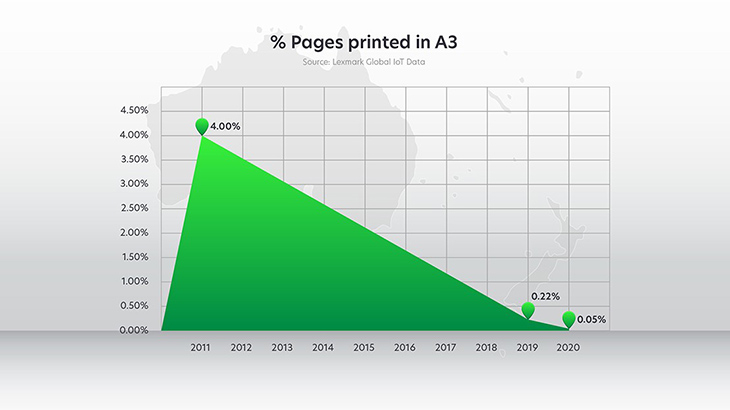 So, your print needs today probably look nothing like they did five years ago, and it's likely that we will see continued change over the next five years. Yet many like-for-like MPS contracts continue to be offered into the market with only minor tweaks here and there, which makes no sense.
IDC's recent study, commissioned by Lexmark, found that, on average, organisations plan to reduce their printing costs by 43 per cent over the next two years. The key to achieving this is to set some realistic expectations:
​​Expect to progressively print less;
​​Expect the majority of your print will be linked to revenue/cash/core processes and not performed in large back office print rooms;
​​Recognise the majority of your A3 copiers are not needed and that much lower cost A4 devices will adequately support the majority of your needs. A balanced fleet design process can guide you through this change; and so
​​Demand that your contract aligns with these requirements and offers greater flexibility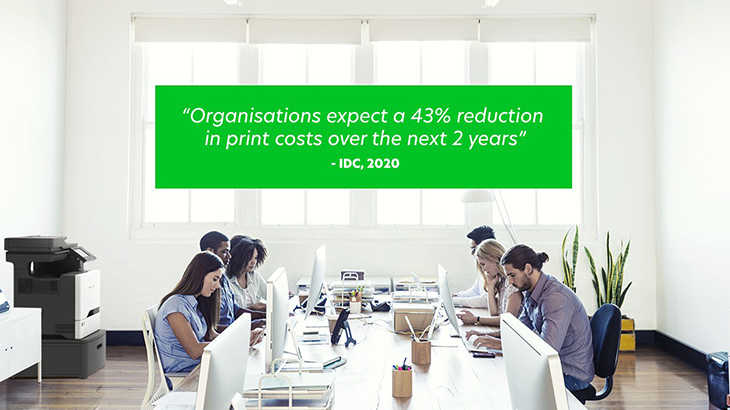 Providers who are not prepared to incorporate greater flexibility into their MPS contracts have their head in the sand, and there are other options that can better adapt to the changes referred to above. Clarify your expectations on what you need now, and plan for different scenarios for how that could change in the short, medium and long term.
2. Review your A3 copier fleet
If you've scrutinised your needs looking forward, you'll probably see that your core processes don't require A3 sized printing. In many organisations, the most common documents are still A4 black and white pages. So why do you need those expensive A3 copiers? Gap Intelligence shows that replacing a 65ppm colour A3 copier with a 55ppm colour A4 device can save a business 37 per cent TCO on a five-year contract without sacrificing any other functionality. We have customers who have recognised this, made the change, and benefited from savings amounting to up to 40 per cent – while still having access to A3 for the < 0.05 per cent of cases when they need it.
Taking significant device cost out of your contract dramatically increases the flexibility your provider can then offer.
3. Demand flexibility
Once you understand your present and projected needs and reviewed whether you really need all of those A3 copiers, you are then able to ensure your MPS contract works for you.
Changing print needs and overarching demand for businesses to cut costs means that old fashioned MPS contracts with complex finance and minimum monthly charges (which can be around 50% of the total print costs or more) are no longer aligned to your business requirements.
Unfortunately, we've seen many examples where businesses request a fleet solution based on their prior needs – which leaves them very exposed when those print numbers drop. And, it can take extra time and money to recover from some of these. Less printing naturally means less overall device utilisation. In fact, an A3 copier procured five years ago designed to produce 10,000 pages a month in reality may only be printing 3,000 pages a month now.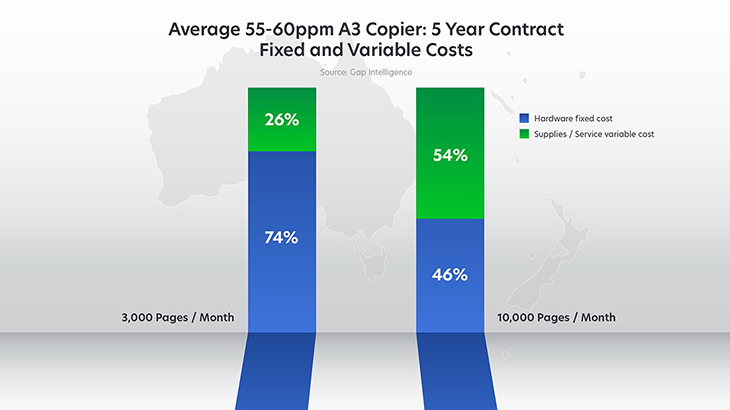 In short, you should strenuously review any requirement for minimum page volumes or minimum monthly charges – the last thing any business needs as we grapple with the economic fallout of COVID, is to be oversold expensive devices that then can't be paid for by the page as print volumes drop and the devices themselves lie dormant.
Likewise, you should reject typical contracts that include large finance balloon payments due at the end of the contract, or those that effectively force you to refresh the whole fleet in five years just because they've come up for refinancing - this model simply won't suit the organisation of tomorrow.
Instead, only replace devices when needed, and ask your vendor about devices that have been engineered for longer lifecycles. By combining this technology with lower average print volumes, you can extend product lifecycles by an additional four to five years, removing an entire refresh and generating significant cost savings. If you're contemplating a print infrastructure as-a-service model, consider an extended contract period to reduce annual operating costs.
4. Demand more value
Once you understand what you need and what you definitely don't need, it's time to question your print services provider about what else they can offer.
Ensuring your vendor can undertake cloud-based management of your hardware is crucial in this time of fluid working arrangements. Move more of your print infrastructure to the cloud for greater flexibility and reduced cost. Consider a vendor who can offer more remote and predictive servicing capabilities to eliminate the burden on your IT team while still keeping your business running smoothly.
5. Compare and contrast
Do you remember our friend's comment at the start of this article?
"You do realise we customers all talk to each other - we have to because we assume that you print people are just out to rip us off."
At Lexmark we encourage you to talk to each other - check the MPS contract you're about to enter holds up, compare it with your colleagues and compare it against your future business expectations.
We've seen customers save millions by designing a fleet based on what they really need for the future, and by refreshing based on a detailed assessment of device performance, instead of what's out of lease or finance. We would love for the word to spread that now, more than ever, there is a flexible, transparent and relevant solution.