Thought Leadership
How to Reduce Costs in a New Economic Reality
| By Stephen Bell, Regional Director of Lexmark Australia and New Zealand
Leverage cloud technologies to drive IT cost savings, manage print devices from outside the corporate network, simplify infrastructure and enable secure printing from anywhere.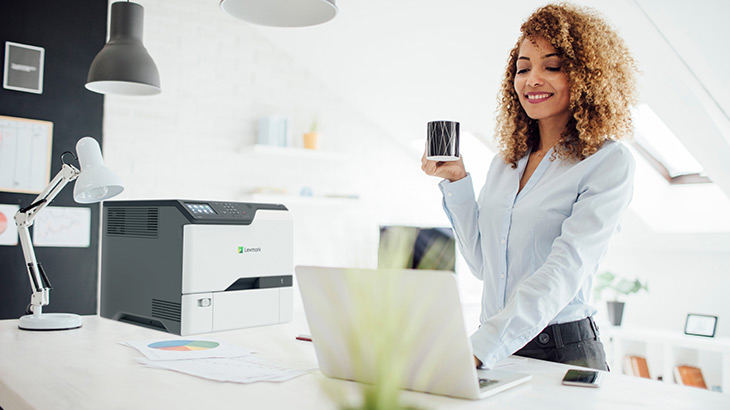 TAGS: Cloud Services, Internet of Things , Managed Print Services (MPS), Thought Leadership
As large parts of the Australian workforce emerge from what will hopefully be the last of the lengthy lockdowns, many of our customers are assessing how to better equip their businesses to drive more value in the new future. In this rapidly evolving environment, it has been important for many organisations to prepare their teams for sudden changes in physical work locations, and to equip them accordingly. They need to have the right technology in place to support their work from anywhere, whether it be closer to their customers, or to support new hybrid working models. For critical printing needs, internet-enabled print solutions can be the right alternative.

Regardless of where they are working from, many staff in heavily regulated industries and those involved in essential services such as healthcare, retail and logistics, rely on printed documents to complete a range of core business processes. Therefore, it's vital to business continuity that critical documents can securely be printed from a wider range of locations, irrespective of whether these documents originate from applications running from the cloud, from within an enterprise server, or from a work laptop.

In the new world of remote and hybrid working, employers need to securely enable print and scan workflows for office-based, remote, and roaming worker scenarios. This means they need smart strategies for simplified output management to support documents and printing in an evolving work environment. Access is everything in the new business landscape where profits have been squeezed or halted by the pandemic and need to be rebuilt as fast as possible. The good news is that there are cost savings to be had with the right approach.
Expand your reach and simplify by leveraging the cloud
In many cases, the solution to access anywhere is the cloud. Internet-enabled print solutions not only address the challenges of how to securely print when working remotely from a home-office, any other location or even whilst on the move – but also help reduce costs through a holistic output management strategy.

In a typical Managed Print Service, the ability to monitor, manage and service devices spread across vast geographies with limited if any access to the corporate network is simply not possible. But the new economy demands it, and so the technology has evolved.[end Block quote] These dispersed devices sitting outside the corporate network can now be remotely monitored, managed and serviced by leveraging the cloud. All that is required is a connection to the internet. Costs can be contained with real time analytics providing valuable insights into emerging print needs in times of rapid change.

With visibility and control over more of your devices than ever before, the next step is to simplify IT service and infrastructure to successfully manage all output, especially critical documents. A cloud-based print management solution allows organisations to offload the physical infrastructure required to support the print environment. Doing so reduces demands on the internal IT department and provides a stable, flexible print ecosystem. In this scenario, instead of sending documents through a sometimes complex infrastructure of print servers – they are transferred to the cloud. Here they are securely held in a personal queue until the user logs in or swipes their badge at the printer, authenticating themselves as the owner of that piece of output. This enables users to release documents from any authorised device across an entire print fleet, wherever they are located. For the ultimate in mobility, look for a cloud-based print management solution that provides full support for printing from Mac, Windows, and Chromebook devices, so employees can easily initiate print jobs from an iPhone, iPad, or Android smartphone or tablet.

In Lexmark's experience, less than 10% of the total cost of running an enterprise print management solution lies within the software licensing and implementation. The vast majority otherwise is tied up in IT burden: applying upgrades, security patches and fixes, dealing with downtime, upgrading dependent applications and rewriting customisations and integrations as the IT infrastructure evolves.

Leveraging a cloud infrastructure to enable employees to access output from anywhere enables simple, centralised control for large enterprises and eliminates the IT burden of managing physical infrastructure. It also allows central data analysis of organisational and individual printing habits. This means data-driven insights can be used to improve devices and output, as well environmental impact, without the need for additional hardware or involving staff.
Process Control
As organisations respond to changes in working patterns, they have an opportunity to improve business processes, which in turn can lead to a welcome reduction in costs. Cloud-based print management saves on hardware expenditure as it eliminates the need for print servers. Scaling up is also more cost efficient – just add more devices and users without needing to increase physical server capacity.

Another crucial area of cost control is the avoidance of regulatory penalties due to non-compliance. The best cloud print management solutions will enable the use of digital signatures, enterprise-wide search, authentication, and auditing to ensure organisations maintain data integrity, confidentiality, and accessibility, whatever industry they operate in.
Application integrations
Savings can also be realised from useful business integrations. For example, being able to print directly from an application such as an ERP solution or invoicing and finance management software is a major timesaver. The ability to scan and capture the information on receipts and statements directly into an application means users can significantly speed up the process.

A great example of application integration is between Lexmark and enterprise application software company, SAP whereby Lexmark can intercept data from paper documents entering a business process, exchange that data with the SAP system, and initiate the appropriate SAP workflow. Additionally, Lexmark systems can optimise printing from SAP providing control over how data is formatted for output and the security involved in document delivery, helping to eliminate a significant amount of waste.

If it's cost-effective it helps and in today's changed world of work, internet-enabled print solutions and a comprehensive output management approach can help businesses and organisations make up lost ground by supporting a hybrid workforce whilst helping to reduce costs.