Awards
Lexmark named among 2020 Best Companies for working parents
For the fifth straight year, Working Mother has named Lexmark among its annual 100 Best Companies.
TAGS: Awards
Working Mother magazine recognized Lexmark among the 2020 Best Companies for working parents.
For the fifth straight year, Working Mother has named Lexmark among its annual 100 Best Companies. The designation celebrates U.S. companies that lead in the areas of women's advancement, parental leave, childcare assistance, mentorship and flexibility.
"Our 100 Best Companies are the standard of excellence and continue to pave the way with the work they are doing on behalf of working parents and caregivers in the U.S.," said Subha Barry, president of Working Mother Media. "These companies were well ahead of the curve when it came to supporting their employees during this time of vast change with their family-friendly policies already in place. We celebrate their efforts and applaud them for addressing the needs of this important and ever-growing sector of talent."
Also this year, for the first time, Lexmark has been named to Working Mother's list of 2020 Best Companies for Dads. Established in 2018, the Best Companies for Dads list recognizes companies that lead on paternity leave policies, family leave, employee resource groups that support men, family-friendly benefits, transition programs and more. Lexmark is among 85 companies recognized on the dads list in 2020.
"Millennial dads continue to be outspoken about wanting to be involved parents and needing the support of their companies in order to do so," Barry said. "These trendsetting organizations strive to create an inclusive environment for all working parents, and we applaud their efforts in helping to erase the stigma attached to men taking full parental leave and utilizing flexible schedules to be more involved on the homefront. By doing so, it helps moms succeed both at home and at work and puts them on more equal footing in the process."
"We are proud to again be recognized for our family-friendly workplace culture," said Sharon Votaw, senior vice president and chief human resources officer. "Our paid parental leave program and workplace flexibility offerings are designed to help our employees achieve work-life balance, which is essential to help them effectively manage both professional and personal demands."
As part of the recognition, Amanda Clark, worldwide strategic metrics manager for Worldwide Channel and OEM Sales, is featured among the 2020 Working Mothers of the Year. The magazine asked the women to share their advice on how to balance parenting and their careers.
"Find your voice," Clark said. "If you need help, ask' whether at home or at work. Back in early 2011, I had two immune-compromised 4-month-olds, and I was unsure how we were going to handle work and life. I started thinking about an alternative work schedule so my husband and I could swap kid duty. I prepped my case and asked if I could work from 5 a.m. to 2 p.m. Lexmark was in complete support. I was able to successfully work these hours for three years and over two jobs."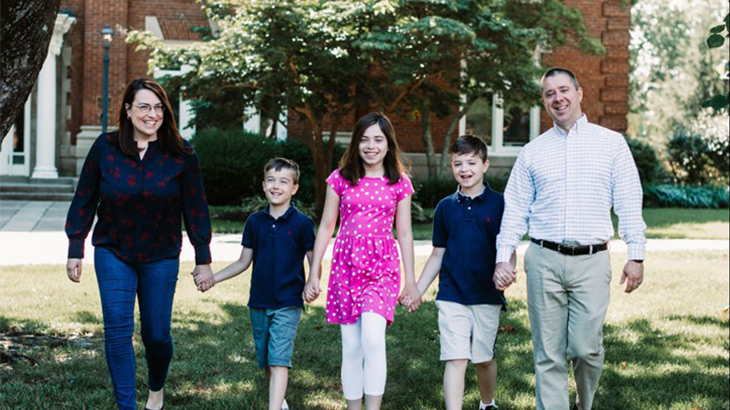 Amanda Clark and husband, Jared, are parents to Natalie, 12, Logan, 9, and Grayson, 9.
Additionally, John Gagel, senior manager, Global Corporate Sustainability, is featured among the 2020 Working Dads of the Year. The magazine asked the men to share the best advice they ever received from a working parent.
"My greatest mentor as a working father was my own father," Gagel said. "No matter how hard he worked or how stressful work was, he always made time for my brothers and me. Almost every evening, as soon as he got in the door, he would stop and play ball with us. It didn't matter how long it was or if he was really focused on 'the ball game'—what mattered was that he made time for us. I have never forgotten that, and it is something that I have tried to emulate over the years with our children. I must say that I haven't always been successful in that regard, and sometimes my own kids have to remind me to 'put work away'—so they too have been awesome mentors."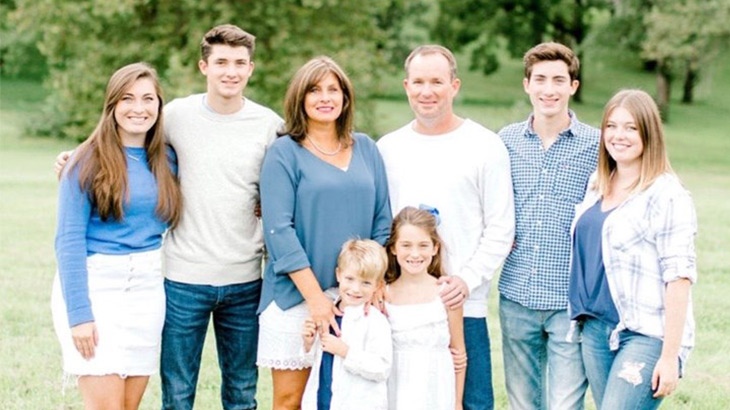 John Gagel and wife, Tamara, are parents to Shelby, 24, Taylor, 22, Ryan, 20, Jared, 19, Riley, 10, and Beau, 7.
The 2020 Best Companies applications include hundreds of questions on leave policies, workforce representation, benefits, childcare, advancement programs, flexibility policies and more.
The 2020 100 Best Companies and Best Companies for Dads lists are posted on workingmother.com and in the October/November issue of Working Mother magazine.

Visit the Lexmark Benefits page for more information about Lexmark's paid parental leave program and other workplace flexibility offerings.