Tamper Resistant Prescription Printing
CMS-compliant security features for prescriptions printed on plain paper.
---

Secure prescriptions on plain paper
Lexmark's Tamper Resistant Prescription printing solution adds security features to easily print prescriptions on plain paper, eliminating the need for special security paper and locking drawers. The solution features Centers for Medicare & Medicaid (CMS) compliant security features to ensure the safety of prescriptions and patient information.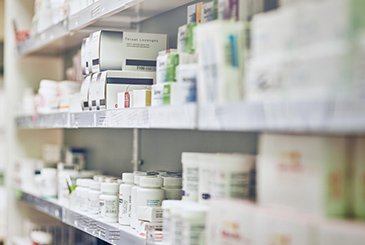 ---
Reduce expenses and safeguard prescriptions
Governance: Help prevent copying blank prescriptions and erasing or modifying written prescriptions.
Patient requests: Securely print prescriptions on demand, allowing patients to use their preferred pharmacy.
Greater savings: Eliminate expense of preprinted media and locking trays, along with tasks associated with tracking and inventory management.
Security: Strengthen compliance and fraud protection associated with theft-prone preprinted forms.
---
---
Prescription paper trail
When it comes to safely managing patient prescriptions, healthcare organizations must meet a wide variety of regulations and security requirements.  While many prescriptions are created electronically, a large number are still produced on paper and have to be carefully supervised. When using preprinted media, organizations need to ensure forms are current, always available and secured in a dedicated locking tray. Meeting these requirements becomes even more difficult for clinicians managing prescriptions across disparate locations including hospitals, physician offices, outpatient facilities and acute care clinics.
Challenges with preprinted media
When doctors, nurses and healthcare staff take extra time to manage manual processes for creating prescriptions on preprinted media, it means less time spent supporting patient care. And that's just the beginning of the many challenges associated with paper prescriptions.
Regulations: Individual states control pharmacy regulations governing prescribing medications, and some states do not allow electronic prescriptions for controlled substances. In these states, all prescriptions for controlled substances must be printed on paper.

Customer service: Patients treated in clinics and emergency departments may not have a local pharmacy and need a paper prescription. In these cases, healthcare facilities must be equipped with a paper-based prescription process or risk losing patients.

Maintenance cost: Healthcare organizations using preprinted forms must ensure forms are up to date and in stock at all times, and the cost of maintaining preprinted media and dedicated locking trays can quickly escalate.

Increased risk: Hospitals and clinics using preprinted forms face a growing security challenge. Preprinted forms must be secured under lock and key, and if pages are lost or a tray goes missing, the incident must be reported.
Simplify prescription processing
Whether you are looking to increase patient satisfaction, speed care or reduce expenses, the Tamper Resistant Prescription Printing delivers powerful CMS-compliant features to save clinicians time while providing a more positive experience for patients.
Microprint: A line of micro text is printed around outside edge of paper; if copied, the text becomes unreadable.

Pantograph: A VOID paragraph background is added to printed output; if copied, the word VOID appears multiple times across the paper.

Security warning box: A box is added to printed output with the message "WARNING: This document contains the following industry tamper resistant security features."

Anti-erasure background: If there is an attempt to manually erase any of the text, the background will also be erased, indicating that a change has been made.

Anti-lift-off: Text printed on the prescription cannot be removed with tape, which prevents unauthorized users from altering the document

State Board of Pharmacy seal: State seals, organization seals or specific text can be added to the printed prescription as required by the customer.

Maintenance and setup: Users can customize pantograph darkness to match their hospital or clinic's requirements.  
The Lexmark advantage
Instead of forcing a one-size-fits-all solution into your healthcare environment, Lexmark solutions are fully customizable to meet your hospital's unique requirements. Along with innovative technology and ease of use, Lexmark brings more than 20 years of industry experience to over 1,400 hospitals in North America and manages the fleets of more than 50 global enterprise health systems.
Tamper Resistant Prescription Printing in action
For busy emergency departments, nursing units, clinics and other healthcare facilities, Lexmark's Tamper Resistant Prescription printing minimizes administrative tasks process interruptions. CMS-compliant security features are built right into the solution, so clinicians can safely use regular paper for patient prescriptions.
Physicians can now enter prescriptions directly into the Cerner system and print the prescription immediately. With our Lexmark solution, we print a watermark and other security features directly on plain paper. The approach is more affordable, reduces risk and improves patient care.

Related Lexmark solutions
Greenville Health System goes for Stage 7
See how a multi-facility healthcare system in North Carolina partners with Lexmark to manage its diverse printer fleet and support HIMSS Stage 7 certification.