Free Your Knowledge Workers To Focus On What Matters Most
The robotic revolution has finally arrived and it looks nothing like we imagined. We aren't talking about futuristic mechanical robots, but rather "software robots" that automate virtually any activity or tasks. Robotic process automation enables you to create a virtual workforce where software robots are dispatched to inject time-saving, accuracy-assuring process automation, saving time, money and the hassle once associated with manual intervention. Organizations making effective use of robotic process automation experience transformative efficiency gains, develop more intelligence around their process, and deliver superior customer service. No futuristic machines and blinking red lights necessary.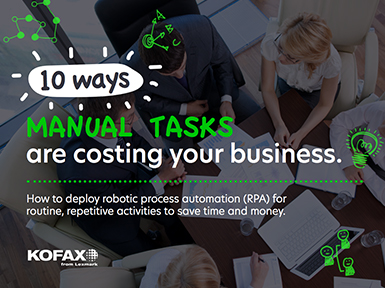 Download Now
Benefits of Robotic Process Automation
Automatically acquire and integrate data into systems for easier processing.
Release knowledge workers from repetitive tasks so they can focus on their core competencies.
Eliminate drain on budget and HR, infusing speed, efficiency and quality.
Rapidly deploy software robots to new process activities as needs change.