Security
Protecting Our House and Yours
CISO Bryan Willett explains how Lexmark's award-winning security practices help protect your information. Be sure to watch the video at the end of the post.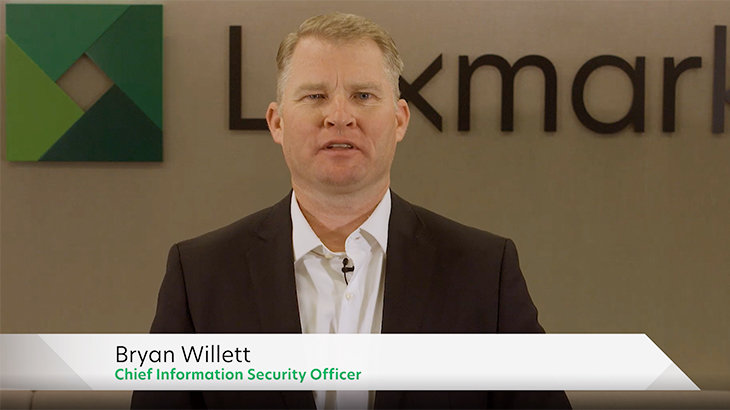 TAGS: Security
Right now, Lexmark devices are at work in some of the most highly secured environments in the world, including those with very restrictive regulations. Lexmark Chief Information Security Officer (CISO) Bryan Willett and his team make that possible, working daily to safeguard Lexmark technology and devices to protect Lexmark customers.
A 22-year Lexmark veteran, Willett has worked directly on all facets of Lexmark security over the years. Today he leads the Lexington, Kentucky-based team responsible for defining, executing and monitoring Lexmark's award-winning Full Spectrum Security.
"Lexmark hardware and software products are designed to be secure from the start," Willett explained. "Our developers are trained on the latest secure development practices so every Lexmark product—from the large MFPs used by enterprise customers around the world to the Lexmark GO Line for small and medium businesses—is proactively designed to mitigate security risks."
"Our secure development lifecycle and supply chain risk management processes make Lexmark devices among the safest in the industry," Willett said.
Lexmark's focus on security doesn't stop when products leave the warehouse. Willett's team continuously monitors products through internal and external security testing to keep devices secure. To ensure the integrity of the Lexmark supply chain, the team follows industry best practices, including regular audits of the firmware and electronics to ensure their authenticity.  
Willett likens his team's ongoing security approach to home security. "Think of a technology system as a house filled with your valuables," Willett explained. "It needs to be kept locked tight against bad actors who are constantly trying new ways to break in and steal your valuables. In a technology system, these potential points of entry are called vulnerabilities—and every modern technology has them. My job as security officer is to identify, manage and remediate vulnerabilities in our environment."
Willett explained that identifying vulnerabilities is actually a good thing. "Vulnerabilities happen —period," he said. "Identifying vulnerabilities is the first step toward fixing them. We rely on our internal team and outside parties to continually test our systems and identify new risks."
Once identified, Lexmark quickly addresses and remediates the vulnerabilities, and discloses them on Lexmark.com and on the National Vulnerability Database so customers can mitigate risks in their own environments.
"Security is built into our devices and solutions by our own expert developers—right here in Lexington, Kentucky," Willett said. "This is a key strength and competitive advantage that earns us high marks from auditors, security research organizations, and industry analysts including IDC, Quocirca and Keypoint Intelligence."
Willett added, "While we are proud of our security certifications and our track record, we are most proud to have earned the trust of some of the world's most security-minded customers."  
Learn more about Lexmark Secure by Design.