Lexmark Downloadable Solutions
Convenient tools to enhance productivity
---

Easily access labour-saving apps
Downloadable software helps make your compatible Lexmark printers and multifunction products (MFPs) even more indispensable to your organization. From simple copying and form-printing functionality to complex enterprise print fleet management, Lexmark solutions solve your printing and scanning challenges.
---
Extend the functionality of your Lexmark devices
Efficiently manage your fleet of print devices, no matter the size
Bring the ease and convenience of apps to all users
Discover print devices or import a list of your devices
Update firmware and deploy apps and device settings
Support your customers over time as they grow by volume and geography
Maximize your investments in a print and scan ecosystem
Experience an intuitive user interface and roles-based design
Perform savable device searches and groupings based on attributes
---
Manage customer fleets securely and remotely
For service providers, Lexmark Cloud Fleet Management makes it possible to remotely monitor, manage and secure your print infrastructure—all without ever visiting on site.
Lexmark's extended library of embedded solutions framework (eSF) apps are now available through Lexmark Cloud Fleet Management for easier access and deployment.
Reduce the burden on your enterprise IT staff
For enterprise IT teams, Lexmark Markvision Enterprise printer fleet management software gives you complete visibility into your entire fleet of network printers and multifunction devices, regardless of manufacturer.
The advanced, easy-to-use toolset helps you realize a fast return on your printing investment while reducing the burden on your IT staff.
Easily update firmware
Lexmark can automatically apply new firmware to add new features or improve functionality for your Lexmark device.
Easily identify the Lexmark printer or MFP being updated via the IP address, the host name of a printer or MFP, or an imported list of printers and MFPs.
Customize and configure your home screen
Effortlessly move frequently used icons to the device's first screen, just like you do for your smartphone, and swiftly remove icons you don't need or use.
Personalize your display screens by customizing personal images, graphics, screensavers, themes or wallpaper.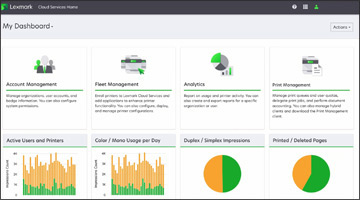 VIDEO
[MP4 00:48]
Learn how to deploy eSF applications and other files to printers from the Fleet Management web portal.

Related Lexmark solutions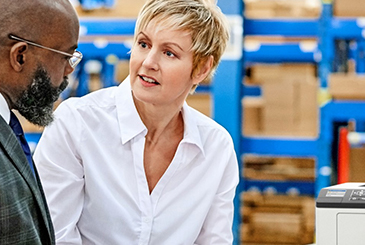 Secure by Design
Security is built into every Lexmark product and covers a full spectrum of security capabilities.
Print Solutions
Improve your organization's efficiency and reduce unnecessary printing.
Managed Print Services
Enable your vision for print simplicity, security, savings and sustainability.
Lexmark named security leader
"Lexmark's holistic approach allows it to provide systematic security for the device, the fleet" and the infrastructure, IDC says.