Thought Leadership
30 Years of Print: What's changed?
In the last 30 years the way we work has been transformed – thanks to internet advances in the early 2000s, to the introduction of cloud in the 2010s.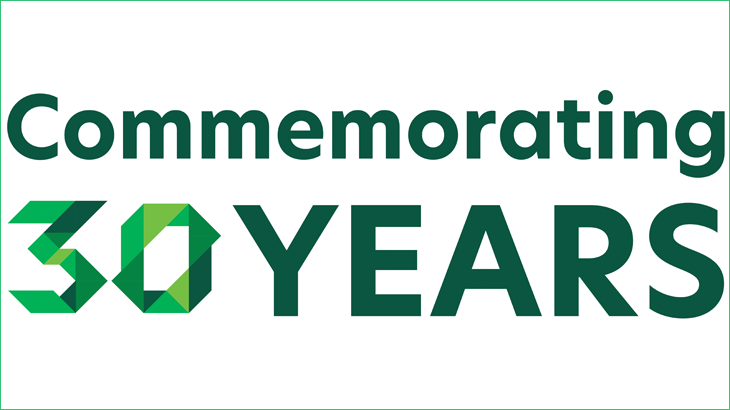 TAGS: Thought Leadership
In the last 30 years the way we work has been transformed – thanks to internet advances in the early 2000s, to the introduction of cloud in the 2010s. While printers have been around throughout that time, their role, and the internal technology itself, has undergone a long history of reinvention to adapt to the unavoidable digital reality. Today, printers may still look similar, but their uses, and the technology that power them, are by no means the same.
When we look a bit closer at some of the major things that have changed in 30 years, it's surprising just how far we've come.
Document Management
The days of having a simple print function in the corner have moved on. Today, we have document solutions and management devices that can automate processes from receipt processing through to warehouse stock management. As paper still drives many business processes, the information on newly created paper documents needs to be captured and managed as part of the digitisation of workflows. Intelligent multi-function printers can capture documents electronically and scan them directly into popular enterprise solutions such as SAP and automatically action workflows, all without requiring third-party software, helping businesses streamline processes.
Cloud
The advent of the cloud has enabled us to evolve hardwired networked devices, which required regular in-person maintenance, into cloud-networked solutions that can be managed remotely. First emerging in the mid-2010s, cloud-based print solutions allowed much of the security, availability, and performance burden to be moved from on-premises IT teams to a remote provider. The leaders in the space have developed these services further to offer print-as-a-service in the cloud, which means that rather than owning and managing a physical print infrastructure with all its accompanying cost, customers simply pay for what they use.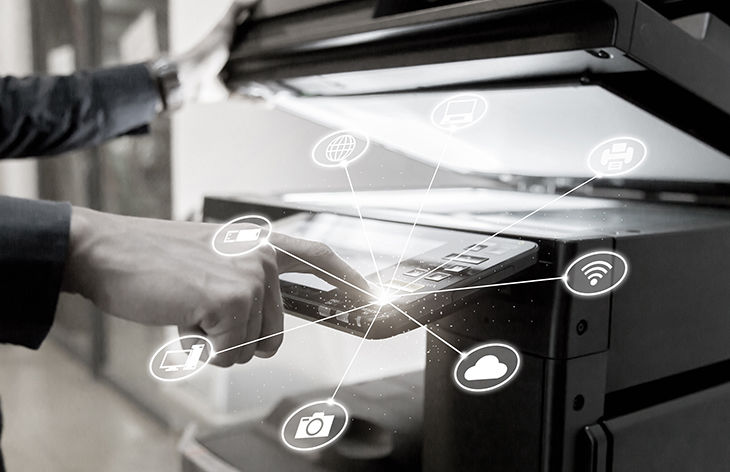 Security
Thirty years ago, printers were as secure as the office they were kept in. Typically, hard-wired in, many won't have been connected to the internet, and the only way to crack them would have been to break in. Connected devices have brought considerable benefits, enabling organisations to print remotely and to any device. However, as access to the internet has grown, so unfortunately has the threat landscape. Investment in keeping customers secure is essential today, and print devices must come with a full spectrum of security capabilities to restrict who can use devices and what they can do including: network security features to protect devices from unauthorised access over network interfaces, document security features (like print release) to keep documents from falling into the wrong hand, automatic security certification, hard disk security, encrypted and signed firmware, secure boot technology and continuous verification.
Sustainability
The concept of transitioning to a circular economy took off in the 1990s, putting a greater focus on the longevity of technology. More than recycling, being circular means starting from a place that uses sustainable raw materials, designing products for the long-term and making them easy to repair, and then recycling them once they reach their true point of obsolescence. It also includes adopting trade-in and product/services sharing business models.
Lexmark has several initiatives that incorporate circular design concepts and materials improvements to provide the office printer market with solutions that deliver optimal environmental performance. Our award-winning closed-loop Lexmark Cartridge Collection Programme (LCCP), introduced in 2003, is a circular economy innovation in which our customers return their used toner cartridges to Lexmark for recycling. Engineers reclaim various types of plastics such as ABS, HIPS and polyoxymethylene (POM) from used toner cartridges and use them to manufacture new cartridges.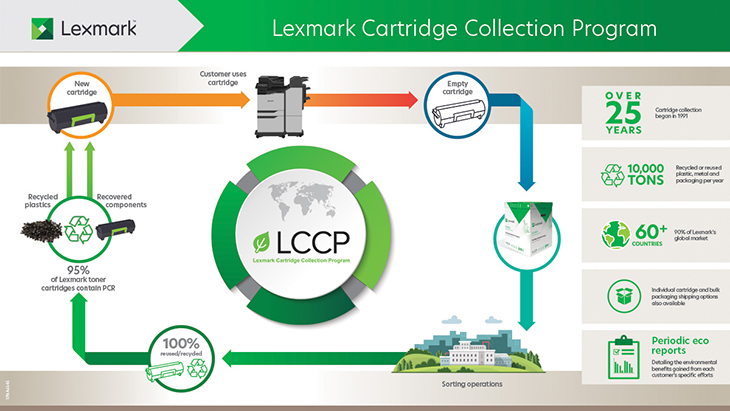 On to the future
The last 12 months have seen further change that will inform our working environments for the years to come. A distributed workforce will drive further increases in the adoption of cloud and internet of things technologies, continuing the acceleration and transition to digital infrastructure. IDC has found 43% of organisations are investing in print infrastructure as part of their broader digital transformation (DX) initiatives. This shows that print remains an integral and important business function, and paper remains entrenched in most businesses processes today; 40% of knowledge workers report spending 21-30% of their working week on document-related tasks (paper and digital) and creating 23 paper-based documents per week compared to 21 electronic documents.
Over the coming years, the need for printing will not disappear but organisations will start thinking more strategically about how to include print within the broader context of their DX discussions related to cloud migration and document process strategies. Next-Gen Print Infrastructure-as-a-Service (NGPIS) platforms will play an important role in DX. As a hosted cloud-based print acquisition model, it is designed to simplify the acquisition and management of print, thereby freeing up IT resources and driving significant cost savings while facilitating a move to a more predictable, subscription-based billing model.
If a DX programme is struggling to make an impact, transforming the print environment can be a good next step as NGPIS leverages cloud, IoT, analytics, and mobile-ready technologies to drive business insights and inform critical decisions around process improvement and workflow automation. Print is a required business function for the time being, so why not make it work as hard as it can?