---

Better, faster service with fewer manual steps
Lexmark's Smart Document Capture for Banking helps banks automate and streamline manual and paper intensive processes to increase employee productivity and provide customers with the service they expect.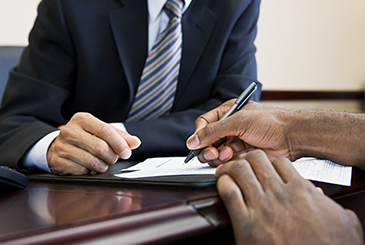 ---
Next-level capture at work across your enterprise
Onboard new customers with ease
Accelerate consumer loan processing
Enable omnichannel banking
Automate compliance and verification checks
Reduce back office redundancies
Eliminate document loss and manual errors
---
---
Simplify bank business processing
With Smart Document Capture, banks are able to facilitate capture and scanning at the point of origination. As a result, documents are digitally indexed and tracked, with extracted data and content seamlessly routed to the bank's back end systems.
Errors are automatically caught from the beginning of the process and presented to the banker, allowing them to address exceptions before the customer leaves. This level of automation simplifies processing, allows for more time to address customer needs and gives branch employees the opportunity to sell other bank products and services.
Drive efficiency and savings
Banks want to transform paper-based processes, staff branches with fewer employees and improve the customer experience. By capturing documents in the branch, the moment they're received, you'll be able to reduce manual verification and data entry, and make redundancies a thing of the past.
For simple new account openings, a high percentage of accounts can be processed straight through without manual intervention – leaving back-office personnel to only address exceptions. As a result, you'll complete processes faster, at a lower cost, for a higher level of customer satisfaction.
Boost security and compliance
The painstaking tasks of meeting ever-changing compliance regulations and enforcing standardised processes can reduce efficiencies and lead to expensive fees. Smart Document Capture makes it possible to capture paperwork and data from the branch and incorporate business rules to immediately verify compliance, enabling you to address new regulatory requirements without additional resources or employees.
With content quickly converted from paper to digital, you'll also be able to enforce increased security, facilitate easy storing and archival, and always have an audit trail to reference when demonstrating compliance.
Address your unique needs
We understand that your processes, systems and information requirements are unique to your business, and a rigid, one-size-fits-all solution just won't do. That's why we built Smart Document Capture to be agile and customisable. The solution's capabilities can range from scanning directly to your system of record to intelligently processing documents.
When it comes to choosing what's right for your bank, you'll be able to decide what level of capabilities best meet your specific needs. In addition, our versatile integration options ensure flexibility in your infrastructure, and allow you to more tightly connect and unite business processes and systems.
Lexmark's on-site quarterly reviews help us understand our performance metrics and our internal customer needs. Lexmark takes the time to listen and hear the needs of its customers loud and clear.

Related Lexmark solutions
Check Into Cash
A financial service provider leverages Lexmark's Smart Document Capture solution to simplify audits and speed customer service.