Community
Area nonprofits grateful for gift of Lexmark printers
Lemxark gives back to the community by donating printers to nonprofit organizations.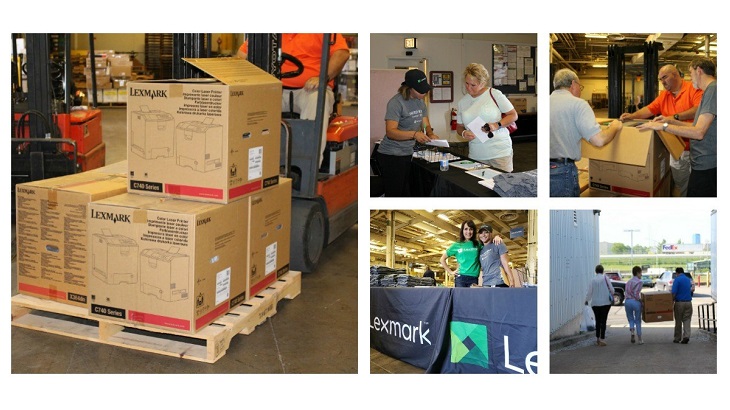 TAGS: Community
"A blessing" is how one recipient described Lexmark's recent printer giveaway. About 25 area nonprofit organizations received free printers at the event, which was held at Lexington headquarters in Lexington, Ky.
To be able to take the money we would use to buy a new printer and put it back into the programs that support our mission is such a gift.This will enable us to have high-quality printed materials that we can use at events and send out to our base support, which will make us look more professional. We're excited.
Lexmark gave away about 20 different types of discontinued, refurbished or gently used printers, including monochrome and color printers and MFPs. Volunteers at the event assessed each organization's needs and matched them to a device that would work best for them.
In order to receive a donation, organizations had to meet Lexmark's corporate giving criteria and were required to provide a W9 tax form as proof of 501c3 tax status.
Marvin King, executive director of Genesis Foundation of Kentucky, was extremely grateful for the free device.
With a nonprofit organization, sometimes resources for infrastructure are very limited, so for Lexmark to be philanthropic and give back is a tremendous win for us and will help us be successful. Being able to print in-house will give us the opportunity to do necessary office work without incurring the cost associated with printing elsewhere.
We are extremely blessed to have a resource in town willing to give us an asset like a printer to help us produce materials for our mission.
Printers still available
There are still numerous printers left that are in need of a good home. If you know of a nonprofit organization that would like a printer, please contact Stacy Lyons at stacy.lyons@lexmark.com for more information.
DISCLAIMER: Printers are donated on an as-is basis with no warranty. The printers are either discontinued, refurbished or gently used. Some printers may have no packaging. The staff donating the printers cannot offer technical support in any form, but organizations can feel free to call 1-800-Lexmark, if needed. The printers have no guarantees. If for any reason a printer does not work, the organization can return the printer to Lexmark for a replacement if we have alternate printers in stock.