Community
Honor Flight participants describe 'humbling' experience
Lexmarkers honor veterans by serving as guardians on Honor Flights.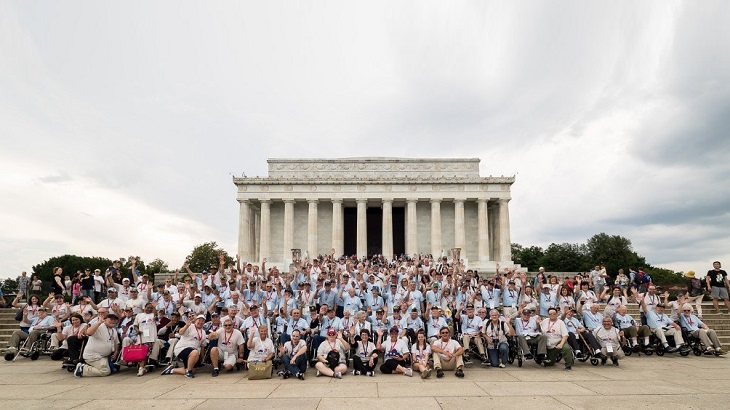 TAGS: Community
Four Lexmarkers accompanied veterans on the first Honor Flight Kentucky of the year over Memorial Day weekend — greeted by a crowd of supporters at Lexington's Blue Grass Airport for an emotional send-off and welcome home.
Honor Flight Kentucky is a nonprofit organization created to honor World War II, Korean War and Vietnam War veterans. Veterans are flown to Washington, D.C., for a one-day, all-expenses-paid visit to the memorials dedicated to their service.
Seventy-five veterans were aboard the May 26 flight, each paired with a guardian. Lexmarkers Evan Goldey, Krista Greathouse, Karen Hurt and Bob McGrath served as guardians — most accompanying a veteran they'd never met. Here's what the Lexmark guardians had to say about the experience:
Evan Goldey, firmware lead
My veteran was Wilbert Thomas, 68, from Winchester, Kentucky. He was a Marine who served during the Vietnam War. This was actually my second trip as a guardian; I had the honor of serving as my father-in-law's guardian last May. After seeing what Honor Flight meant to him and all who were involved, I knew I needed to do more. My wife also served as a guardian on the May 26 flight, accompanying Thomas's friend, George Frazen, a Vietnam War veteran.
As both of these veterans served during Vietnam, neither got the welcome home they deserved. While sharing the experience at the memorials was very moving, seeing the expressions on their faces when they were greeted by over 1,000 people at the airport welcoming them home and thanking them for their service was reward enough for me.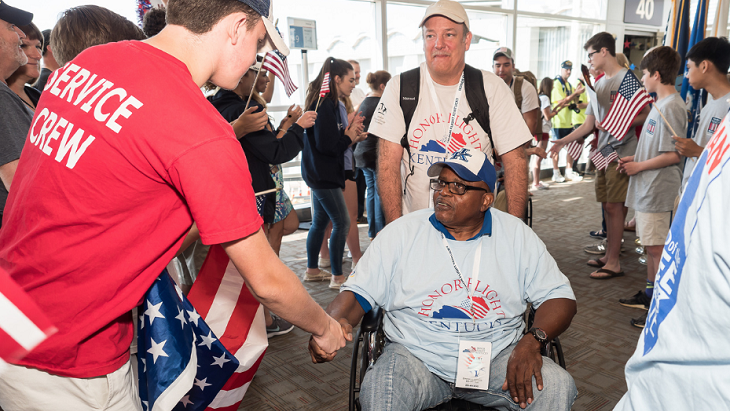 Krista Greathouse, field marketing
I accompanied Joel Huzl, 78, who served in the Army during the Korean War. I wanted to be a guardian to honor our veterans including my father, a Korean War veteran who passed away in February.
The experience was absolutely unbelievable. It was truly the hero's welcome these soldiers deserved. Everywhere we went — seeing us off, when we landed in D.C., at the memorials, everywhere — people stopped and thanked the veterans for their service. Then the return — wow! The celebration for these veterans was amazing. To watch the veterans' families see the outpouring of support for their loved one was beyond moving. I will most definitely do it again.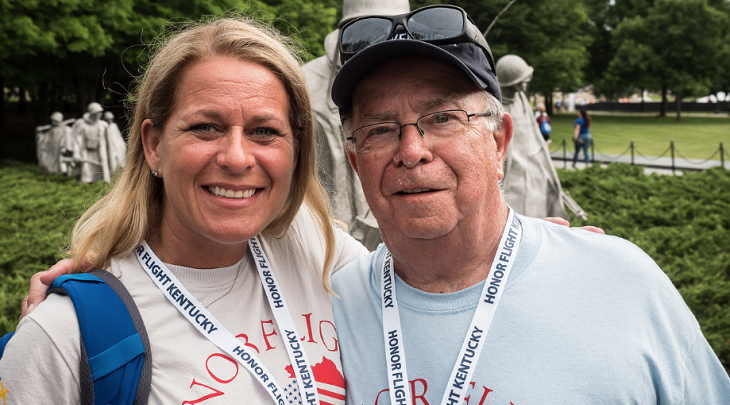 Karen Hurt, HR business partner
I served as the guardian to Carl Penske, 89, a Korean War Army veteran from Lexington. He also happens to be an IBM retiree. This trip was in part to honor my father — a World War II and Korean War veteran who had a lifelong involvement with the military but was never able to participate in an Honor Flight.
Many people told me that I would not truly understand the depth of the personal impact of this trip until I'd been on a flight as a guardian, and they were right. Experiencing the memorials with those whom the memorials honor was a special experience beyond description. Honor Flight and Honor Flight Kentucky are to be commended for the commitment and level of excellence they bring to these experiences.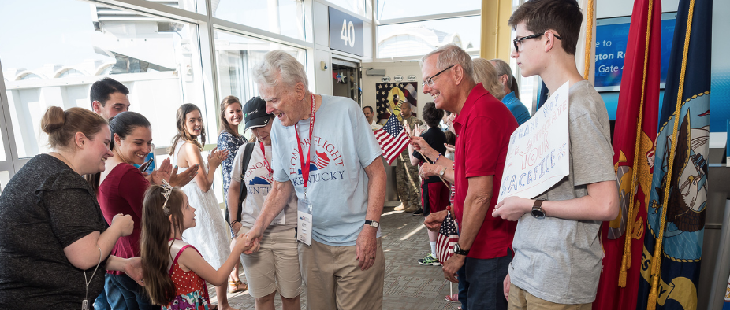 Bob McGrath, regional annuities manager
I escorted my father, Bob McGrath Sr., who served in the Navy during World War II. My dad is 94 and I wanted to experience a most meaningful day with him over Memorial Day weekend. Our trip was even more special as my military son, temporarily stationed in D.C., was able to meet up with us for part of the trip. I wanted my dad to experience the heartfelt gratitude and thanks of his fellow citizens for leaving a Depression-era family to not only help in the war effort but also as a means to send money back to his mother and siblings to help them survive.
This was an experience I wish everyone could have. Exposure to memorials commemorating service and sacrifice was humbling. The well wishers and throngs of folks greeting us at the airports in Lexington and D.C. were truly inspirational and gave our vets the well-deserved welcome home many never received. A thanks of this type has no expiration date. This was an occasion that brought tears to your eyes.
Upcoming Honor Flights
The next two Honor Flights from Lexington are scheduled on Sept. 22 and Oct. 13. If you are a veteran who served between 1941 and 1975, Honor Flight Kentucky would welcome the opportunity to take you to see your memorials. Visit www.honorflightky.org to complete a veteran application. Applications are also available on the site for guardians and volunteers.
To learn more about Honor Flights across the country, visit www.honorflight.org.