This site uses cookies for various purposes including enhancing your experience, analytics, and ads. By continuing to browse this site or by clicking "Accept and close", you agree to our use of cookies. For more information, read our Cookies page.
Lexmark Pharmacy Order Assistant
Process complex, paper-based pharmacy orders from your Lexmark MFPs for increased accuracy, speed and safety.
---

Fill in the paper gaps with Pharmacy Order Assistant
Lexmark's Pharmacy Order Assistant enables clinicians to process the complex, paper orders that fall outside your CPOE system, effortlessly. By enabling your existing Lexmark MFPs to capture, verify, route and track orders automatically, you'll eliminate fax-related errors and delays and increase accuracy, speed and safety.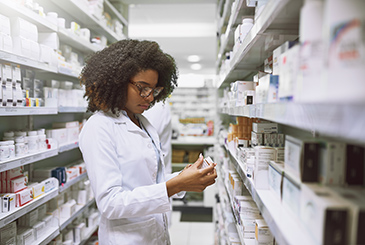 ---
No more faxing headaches
Replace slow, manual order entry with automation
Digitize handwritten orders in an instant
Increase physician and pharmacist collaboration
Track orders every step of the way
Improve delivery speed and reliability
Ensure accuracy with image enhancement and annotation
Reduce paper processing and resource costs
Boost security and compliance
---
---
A smarter alternative to fax
Today's hospitals typically rely on fax machines to route paper orders to pharmacies, which requires busy clinicians to complete multiple steps to process, send and track sensitive information. Pharmacy Order Assistant replaces the standard fax process with one that converts paper order  forms into truly digital files.  By leveraging the MFP--a device that's simple to use and familiar to hospital staff--the solution automates routing and tracking, and allows the order to be accessible electronically. As a result, the order can be retrieved and reviewed by all required parties, for greater collaboration and increased visibility across the organization.
Delivery you can count on
Manual, paper-based processes make it nearly impossible to know the status of an order as it moves from creation to eventually being archived. Pharmacy Order Assistant digitizes paper orders from the very beginning of their life cycle, so tracking is easy and reliable and the workflow is consistent. Steps such as capturing the priority and metadata are never skipped or overlooked. Finally, features such as improving the clarity of a scanned image and order annotation and customization ensure that all orders are easy to read and understand for increased accuracy and optimal patient safety.
Cost management, simplified
Processing paper orders can drain your resources and drive operational costs up quickly. By eliminating both the paper and the number of human interactions required to send and fill an order, Pharmacy Order Assistant simplifies cost management across your organization. With increased digitization, clinicians and pharmacists will be able to increase their speed and productivity, for lower labor costs. In addition, eliminating multiple copies of the order at origination as well as paper and toner required to keep the fax machine running will significantly cut costs of supplies and maintenance.
Enhanced security and compliance
Paper-based processes--especially those that require the use of a fax machine--are inherently insecure. Hardcopy documents are at risk of being lost or stolen, and inaccurate tracking and archival make audits a major challenge. Pharmacy Order Assistant secures sensitive patient information from the beginning. Through digitization, the solution prevents document loss and misuse, and ensures only those with permission to view orders are able to access them. And, since tracking and routing  are electronic, this controlled closed loop process  provides immediate, accurate details of order routing and access attribution for compliance that's effortless.
At work across your enterprise
Pharmacy Order Assistant can adapt to your needs, and work in a number of different use cases across your enterprise. Here are just a few examples:
Related Lexmark solutions
Faster, more efficient physician orders
Markham-Stouffville Hospital found efficiency and cost savings with Lexmark device and Pharmacy Order Assistant.