Corporate Social Responsibility(CSR)
How Lexmark is helping healthcare workers on front line of COVID-19 pandemic
The team is producing between 100-150 shields per day, totaling 955 as of April 1.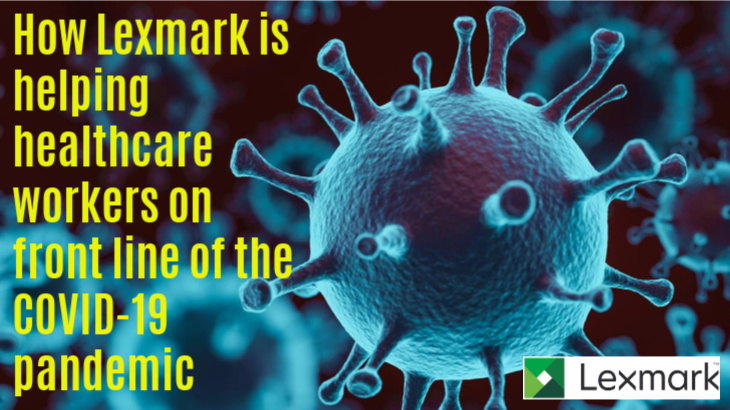 TAGS: Corporate Social Responsibility(CSR)
It started as a conversation over a backyard fence. Lexmark employee, Andy Kopp was talking with his neighbor, an emergency room physician in Lexington, Kentucky, who shared that the hospital only had 10 protective face shields for its healthcare providers, and was desperate for more as COVID-19 cases continue to rise. Kopp immediately had an idea.
"I knew our model shop at the Lexmark Lexington site, which makes prototype printers, could make just about anything," said Kopp, Lexmark manager, Enterprise Architecture and IoT. "I felt certain we could help."
The next morning - Saturday, March 21 — Kopp emailed his idea to a colleague, who got the ball rolling. On Sunday, March 23, Kopp's neighbor, Dr. Hollis Hilty from Central Baptist Hospital in Lexington, came to Lexmark to meet with Eric Langevin, manager of Lexmark's Prototype Technology Center. Hilty brought a face shield with him and they discussed the hospital's needs. The next afternoon, Hilty returned to Lexmark to pick up two prototypes the model shop had already created.
"Dr. Hilty was delighted by the shields and took them back to the hospital to test with his colleagues," Langevin said. "It passed their tests and they requested a few changes to improve the fit. From there, we quickly started production."
The shield is composed of two parts (outer and inner) to protect the wearer from airborne particles and liquid contaminating the face. The model shop is using its laser-cutting machine to cut polycarbonate material into pieces for the outer part. The inner part is made of plastic wrap to provide the required protective seal (the shop is in need of donations; see details below on how you can help). A model shop team of 14 people manually assembles the shields, working in two shifts of seven people at a time to maintain social distancing.
The team is producing between 100-150 shields per day, totaling 955 as of April 1. The hospital picks them up from Lexmark daily and expects to use about 400 shields per week.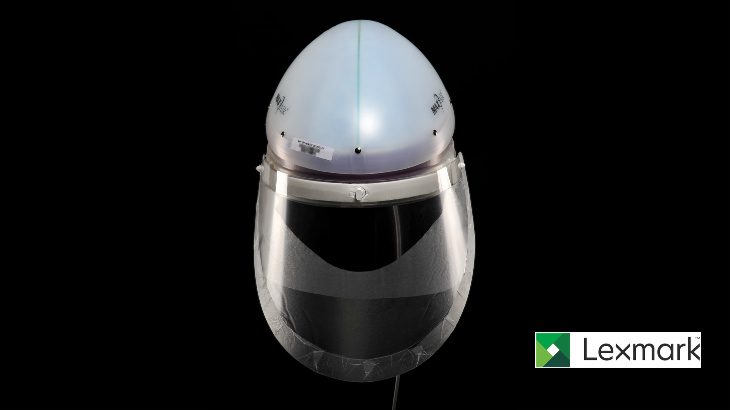 Image of masks being made at Lexmark for local hospitals.
After wearing one of Lexmark's face shields for a shift last week, Hilty sent Langevin the following text: "It's still hands down the best thing going. Way better than the N95s [masks]. The N95s were meant to be worn briefly and they are deformed after hours but worn for days. Many days now. The shields are getting trialed now on the different units. I am very, very thankful to be able to use this resource I thought was gone." Hilty added that he expects the hospital to start offering Lexmark's face shields to the other Baptist Health hospitals in the region.
"My sister is an intensive care nurse in San Francisco, so I know what a shortage of protective equipment can mean on the front lines of this pandemic," Langevin said. "It's really exciting to be able to make a difference in our community."
Langevin's manager, Kelly Tingle, has connected with more than 30 area companies through the Kentucky Chamber of Commerce to discuss what they can do to help during the pandemic. Lexmark has material for about 1,600 shields, and Tingle is working to identify sources for more material to enable the company to keep making them.
Lexmark is also in contact with Kentucky Emergency Management, which has been reaching out to area businesses for help. The agency is interested in receiving the donated face shields for distribution across the state. Tingle is looking for a manufacturing partner to help increase production.
"Lexmark considers the work the model shop is doing as 'essential,' allowing our team to continue to work on site and meet this critical need in the community," said Tingle, senior manager, Experience Design and Technical Operations. "I think that says a lot about our company."
"In the Development Operations organization, which includes the Prototype Technology Center and Corporate Sustainability, we have had a motto for many years that states, 'See the Need, Meet the Challenge,' said Dan Seevers, Lexmark director, Development Operations. "We feel that community support is a vital part of our corporate social responsibility, and it comes naturally to us to look for ways to help out during these uncertain times. We have tools and smart people; it didn't take anything other than a neighbor talking to a neighbor to see an opportunity to help out the local medical community. People helping people is part of our DNA."
"I'm so impressed by the way the model shop jumped on this idea and got it done," Kopp said. "Hollis thought when we started that Lexmark would be able to make a few face shields for the hospital, and now he's getting hundreds; he's just blown away. I could not be prouder of Lexmark for the way we've responded. I'm convinced it will save lives."
Go here to learn more about Lexmark's response to COVID-19.