Corporate Social Responsibility(CSR)
Protecting the Planet on Earth Day and Every Day
The theme for Earth Day 2022, Invest in Our Planet, reflects the core of Lexmark's Corporate Social Responsibility framework—on Earth Day and every day.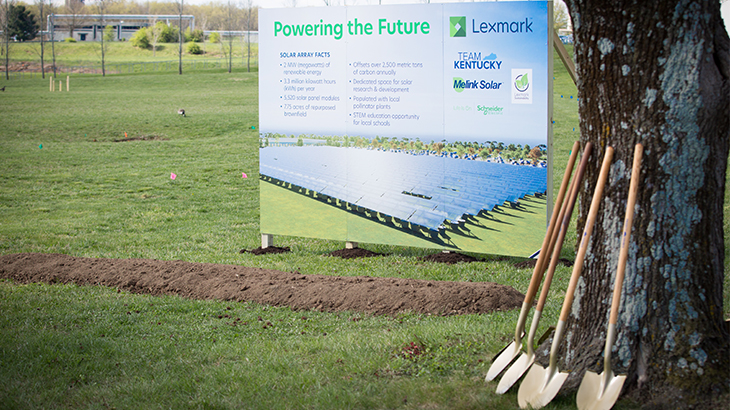 TAGS: Corporate Social Responsibility(CSR)
Individuals, businesses and governments around the world recently celebrated the 52nd annual Earth Day in support of our environment. The theme for Earth Day 2022, Invest in Our Planet, reflects the core of Lexmark's Corporate Social Responsibility framework—on Earth Day and every day.
Celebrating Earth Day this year, Lexmark organized a range of global events to include community awareness activities where employees can learn, share best practices, and inspire each other to do their part in preserving our earth for the next generation. For example, Lexmark facilities in the U.S., Hungary, The Philippines, India, Mexico and Brazil came together to honor Earth Hour by turning off all electricity.
At Lexmark global headquarters in Lexington, Kentucky, we launched a significant renewable energy project. Joined by state and local officials and other dignitaries, we broke ground on a solar array to help power the site with renewable energy. The array is expected to produce more than 3.3 million kilowatt hours in its first year of operation--equivalent to avoiding the greenhouse gas emissions from nearly six million miles driven by an average passenger vehicle. The array will also provide an educational opportunity for students from area schools to learn about the environment and renewable energy.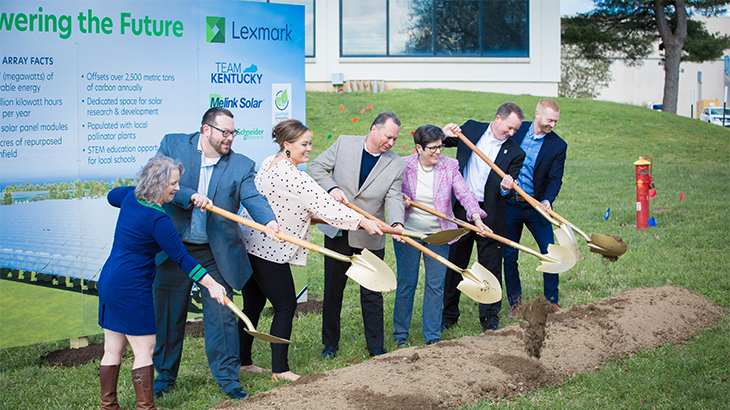 Carbon Neutral Goal
Last year Lexmark announced our commitment to be carbon neutral by 2035. But our dedication to the planet started long before. Lexmark has been tracking and actively reducing our greenhouse gas (GHG) emissions since 2005, successfully reducing Scope 1 and 2 emissions by 62% over the last 17 years. We are now focused on reducing Scopes 1 and 2 GHG emissions by 40% by 2025 from our 2015 baseline.
Every effort helps build the momentum needed to make a substantial difference, which is why Lexmark continues to refine data collection and methodologies for transparency in our value chain. As we continue to monitor and reduce our emission levels, we are accelerating our transition to renewable energy, carbon credits and renewable energy certificates (RECs) to offset the remainder of emissions in areas of our business.
Circular Economy
Contributing and making a difference throughout the year goes beyond simply reducing emissions. Truly transformative change requires a rethink on how we create and consume goods and services. As a leading remanufacturer, we understand that the adoption of circular economy principles promotes innovation and economic growth in a more environmentally sustainable manner.
Lexmark has supported the circular economy and remanufacturing initiatives since its inception 30 years ago. In 1991, we began reclaiming material through our Lexmark Cartridge Collection Program (LCCP) and have been creating post-consumer recycled (PCR) plastic in our closed-loop process for over 10 years.
We also help our customers achieve their own sustainability goals, through sustainable design, efficient use, and responsible reuse and recycling. Our leading MPS offering is integrated with environmentally conscious programs, and our deep industry expertise enables us to provide solutions that drive sustainability, helping customers navigate industry-specific pressures and environmental best practices.
Sustainability is increasingly in focus for Lexmark, evidenced by the recent launch of the company's first IoT offering – Optra IoT Solutions. From reducing waste to better resource management, Lexmark has reaped the rewards of IoT internally for more than 20 years. Optra IoT will move the sustainability needle for companies, regardless of industry, in addition to fostering digital transformation.
More information about Lexmarks sustainability and CSR programs can be found here.