Corporate Social Responsibility(CSR)
Lexmark manufacturing facility achieves CarbonNeutral® certification
Climate Impact Partners certifies Lexmark's Juarez, Mexico facility CarbonNeutral®.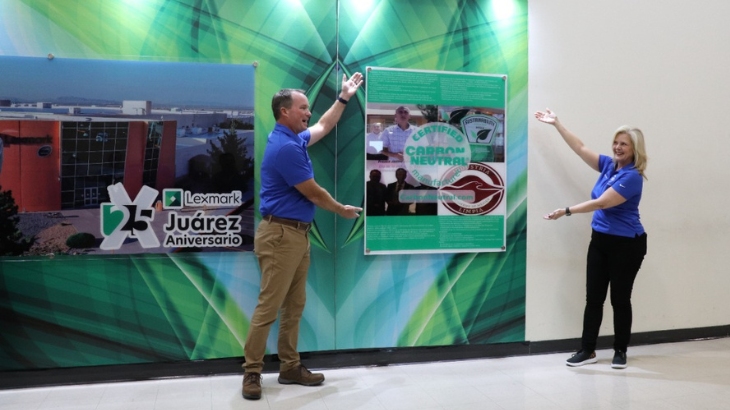 TAGS: Awards, Corporate Social Responsibility(CSR)
The team at Lexmark's toner manufacturing plant in Juarez, Mexico, gathered recently to celebrate a major environmental milestone, as Climate Impact Partners certified the facility CarbonNeutral®.
Carbon neutrality means that for every amount of carbon dioxide the site produces, it takes steps to remove the same amount of carbon from the atmosphere. 
Lexmark's goal is to achieve carbon neutrality across its global operations by 2035. The company is implementing a detailed plan of certifications and initiatives in its processes and manufacturing complexes, then offsetting remaining carbon emissions by funding certified projects through Climate Impact Partners.
Given the importance, magnitude and high production capacity of its cartridges and printers, the Ciudad Juarez Campus was selected as the first operation to seek the certification.
As part of the process, the facility was analyzed to identify the balance of greenhouse gas emissions generated by its operations including: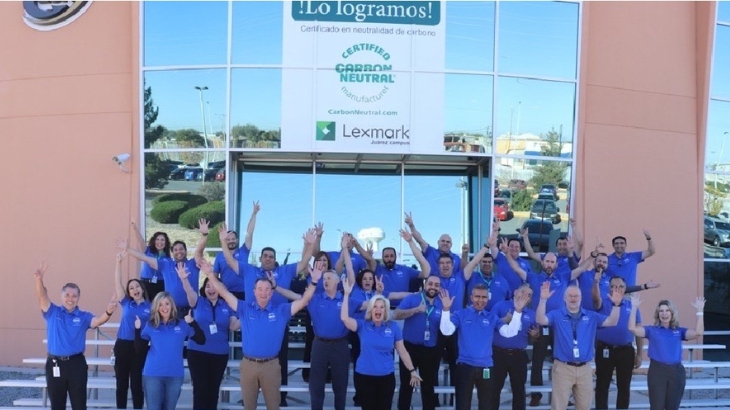 Energy and fuel consumption
Miles traveled by transportation units, including trips made by employees
Energy conservation project outcomes
Reduction of hazardous and special handling waste
To achieve CarbonNeutral® certification, Lexmark then invested in a certified project to offset the remaining greenhouse gas emissions. The project, based in Oaxaca, Mexico, generates clean energy through wind power systems.
"Our CarbonNeutral® certification was achieved by adopting sustainability strategies applicable to the daily work within the company," said Guillermo Gallegos, general manager of Lexmark Juarez, Mexico. "This was possible thanks to the commitment of our dedicated team here in Juarez."
"This is a significant step toward our goal of achieving carbon neutrality across all our operations by 2035," said John Gagel, Lexmark Chief Sustainability Officer. "We are committed to creating a cleaner, smarter and more sustainable future in which to live and work." 
Globally Lexmark is making strong headway toward its goal of carbon neutrality by 2035:
Single-use plastics in product packaging reduced by 19% since 2018
Greenhouse gas emissions reduced by 62% since 2005
Water consumption decreased by 72% since 2005
Average recycled content plastic use is 39%, with a goal of 50% by 2025

"Sustainability is a fundamental part of our global strategy, prioritizing the efficient use of natural resources in all of our manufacturing, research and development facilities and offices around the world," said Allen Waugerman, Lexmark president and CEO. "Congratulations to our Juarez team for reaching this great milestone and leading the way for the rest of the company."