This site uses cookies for various purposes including enhancing your experience, analytics, and ads. By continuing to browse this site or by clicking "Accept and close", you agree to our use of cookies. For more information, read our Cookies page.
---

Omnichannel efficiency for the retail supply chain
Lexmark's Supply Chain Document Optimization solution can support and simplfiy your digital transformation initiatives. Whether your goal is to embrace industry 4.0 or gain greater visibility in your logistic processes, Supply Chain Document Optimization reduces manual, paper-based tasks that delay logistics operations.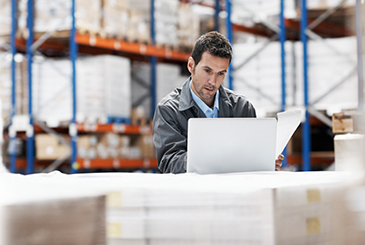 ---
Eliminate manual processes for greater productivity and savings
Easily produce and capture shipping and receiving documents
Replace pre-printed forms with forms printed on demand
Instantly share order information and updates with customers
Swap outdated dot matrix printers for advanced laser technology
Reduce costs by eliminating the need for custom paper
Drive greater productivity and increase visibility with electronic forms
Boost compliance across the enterprise and be prepared for audits
Eliminate time wasted searching for documents and information
---
---
Get control of supply chain documents
For retail businesses looking to accelerate their digital transformation, Supply Chain Document Optimization delivers powerful features that streamline each step of retail shipping and receiving. Employees can print forms on demand based on specified criteria, eliminating the expense and delays associated with preprinted forms. Lexmark's advanced media handling capabilities easily generate a variety of content including packing lists, shipping labels, banners, continuous feed media, vinyl labels, cardstock and paper labels.
Easy to use, simple to integrate
Enable fast user adoption across your supply chain with a familiar touchscreen interface and easy-to-use app for mobile devices. Supply Chain Document Optimization integrates seamlessly with existing ERP, ECM, document management and back-end systems. Capture shipping and receiving documents in real time, and store data in existing systems for immediate retrieval in stores, regional op centers, warehouses and more. You can also customize and collect key metadata to sort and route documents based on data gathered, document type or extracted information.
Print, program and customize RFID tags from one device
Lexmark's RFID Laser Printing solution  programs and prints RFID tags simultaneously to eliminate manual scanning delays. Even complex media requiring RFID tags are handled on a sigle device, eliminating mismatch errors and the costs associated with maintaining multiple devices. Plus color printing and large format capabilities help increase the visibility and effectiveness of your RFID labels.
No matter where you have RFID implemented including pallet labels and yard management systems, Lexmark's color laser printers and MFPs with RFID programming capabilities simplify RFID tag processes so employees can focus on supporting your customers. 
Related Lexmark solutions
Columbia Sportswear Success Story
Columbia Sportswear used Lexmark to reduce their output costs and drive efficiency across their headquarters, stores and warehouses.