This site uses cookies for various purposes including enhancing your experience, analytics, and ads. By continuing to browse this site or by clicking "Accept and close", you agree to our use of cookies. For more information, read our Cookies page.
Patient Access Forms
Streamline and digitize the paper processes that surround patient access.
---

Patient access accelerated
Lexmark's Patient Access Forms solution helps healthcare organizations streamline and digitize the paper processes that surround patient access. The solution is designed with the flexibility to be effective in any patient engagement process, from collecting signatures, completing forms, and creating labels and armbands. Bring your information out of hiding for fewer holdups and a higher level of patient engagement and satisfaction.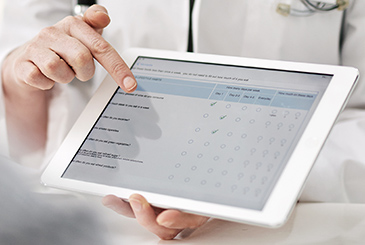 ---
Enhanced patient engagement
Make forms accessible online to collect data prior to patient encounters and reduce admission and registration time.
Automate data entry into e-forms from established systems so staff members can focus on patients, not paperwork.
Instantly integrate eforms into core systems to empower clinical and business workflows.
Digitally collect information to mitigate risks and ensure data is accurate, verified and secure from the start.
Collaborate across your entire enterprise. Access discrete data and eliminate document loss and delay with electronic forms workflows.
---
---
Enhance patient satisfaction
Now more than ever, patients expect service and care that is fast and dependable. But long wait times during admissions and registration, often filled with piles of forms and paperwork to complete, can leave patients feeling frustrated and dissatisfied.
Patient Access Forms enables you to collect the patient information you need, without all the frustrating delays and redundancies. You'll be able to reduce patient wait time by making forms available on a tablet at the point of care for less wait time and confusion. In addition, the solution enables you to combine scores of consent forms into a single eForm solution and leverage eSignature technology to make paperwork easy, stress-free and fast.
Improve efficiency with digital workflows
Workflows weighed down by paper are difficult to navigate, disconnected from other processes and systems, and are often riddled with incomplete or incorrect information.  As a result, tasks such as printing armbands or labels are often more difficult and time consuming than they need to be.
With Patient Access Forms, you'll be able to automate data entry into e-forms from established systems so staff members can focus on patients, not paperwork. No more paperwork also means the removal of resource-wasting steps like scanning, filing and labeling for increased efficiency and accuracy. And, since our MFPs are equipped to print on complex media formats, you'll be able to capture, validate and store information, and print patient armbands and labels--all from a single device.
Expand access
Searching for critical documentation can cause delays and hinder treatment. In order to optimize care, you need to give your providers the power to  access complete information, in an instant.
Patient Access Forms does just that. Since forms, signatures and patient documentation are all stored digitally, the solution makes it easy to seamlessly unite and integrate the platform with your existing systems. That means precise, up-to-date information exactly when and where it's needed, and no more information hide and seek.
Boost security
Paper is difficult to track and monitor, and that means processes that include hardcopy, manual tasks are difficult to secure. When it comes to patient information, you can't be too careful in ensuring the data you collect remains protected.
Patient Access Forms can help. By eliminating paper and collecting information digitally from the start, you'll mitigate risks and ensure data is accurate, verified and secure. In addition, electronic storage allows for easy tracking, so you always know who's accessing what information for enhanced patient privacy and protection.
Broaden collaboration
Sharing information across your enterprise is a crucial part of providing complete, continuous care. But a true spirit of collaboration is nearly impossible with paper-based data that's difficult to move quickly across departments.
With Patient Access Forms, you'll empower your clinicians and employees to share and collaborate through digital workflows. And, since the solution automatically connects patient forms and consents to the electronic health record, access will be more comprehensive for care that's consistent and continuous throughout your organization.
At work across your enterprise
Different clinical departments and work environments have their own set of needs and challenges when it comes to collecting and accessing patient information and signatures. Patient Access Forms can adapt to those needs, and work in a number of different use cases across your enterprise. Here are just a few examples:
Patient access/admissions: Registration clerk can use a tablet to capture consents and notifications, and give patients access to the document they are signing through a tablet rather than simply a signature pad.

Emergency department admissions: Registration clerk can use a tablet to access the patient admission forms electronically while still in the room with patient

Same Day Surgery/General Surgery/Procedural Consents: Clerk can complete general consents, notifications and informed consent from a prepopulated database of procedural consent forms

Patient Form Access on an MFP: Lexmark MFPs can store general consents, required notifications and the hundreds of informed consents on the printer hard disk to be accessed in a downtime situation when tablets are not available
Related Lexmark solutions
In-depth assessment led to major savings
Gwinnett Health Systems improved efficiency and realized significant savings thanks to Lexmark's deep assessment and solutions.