Small Business
X marks the spot for small business resources
| By Victoria C. Dykes, Global Marketing Content Strategist, Lexmark
Lexmark launches a new destination for small businesses to explore the latest technology insights and business growth support.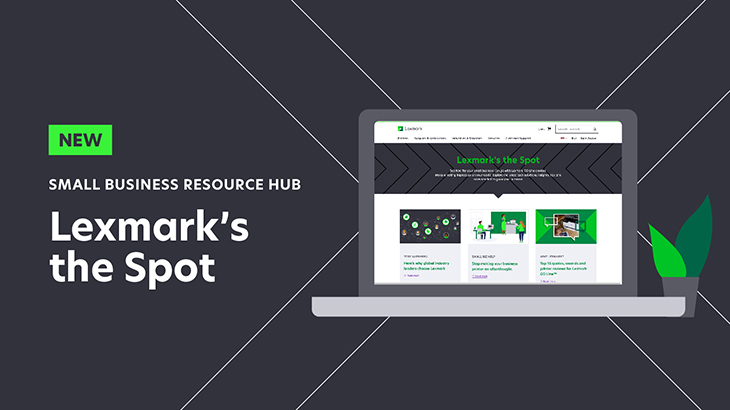 TAGS: Small Business
Lexmark has launched an online resource for small business owners called Lexmark's the Spot that offers advice and recommendations from Lexmark leaders and other professionals. Leveraging more than 30 years of global business expertise, Lexmark will publish articles, infographics, webinars and other content that address small business owners' pain points, common printer problems and other business concerns.
Content now available on Lexmark's the Spot includes:
In addition to tips and tools, Lexmark's the Spot connects readers to relevant GO Line ™ printers and all-in-ones, Lexmark's new line of compact devices designed for SMBs. Each device is equipped with enterprise-class features that enable users to:
Manage documents from a mobile phone with the Lexmark Mobile Print app.
Access cloud-based file-sharing apps like Dropbox, Microsoft OneDrive and Google Drive from a customizable touchscreen*.
Require a PIN to retrieve confidential printed forms and documents.
Keep print projects in house with devices that print on a variety of paper types and sizes.
Running a business can be an exciting yet challenging journey, no matter the size. Buying a printer can often be an afterthought, but Lexmark's the Spot helps small business owners understand why it should be a priority — and how to navigate the buying decision.
Studies show that eight in 10 small businesses worldwide rely on printers to perform daily operations. Just like an office needs chairs, desks and pens, printers are essential in business operations — especially for small businesses.
"Businesses identified as early adopters [of technology] are twice as likely to have achieved their past business objectives plus higher revenue growth over the past year," according to a 2022 study from Microsoft.
In addition to Lexmark's the Spot, Lexmark has partnered with SCORE.org. a nonprofit resource partner of the U.S. Small Business Administration dedicated to helping small businesses get off the ground, grow and achieve their goals through education and free mentorship. Through this sponsorship, SMBs will learn new, immediately actionable steps.
Check out what's new on Lexmark's the Spot and learn more about the Lexmark GO Line ™ series of printers and all-in-ones.
*Select models only
Victoria C. Dykes is a Lexmark messaging and content strategist focused on the company's global marketing strategy for small- and medium-sized businesses (SMBs). She is based in New Jersey.